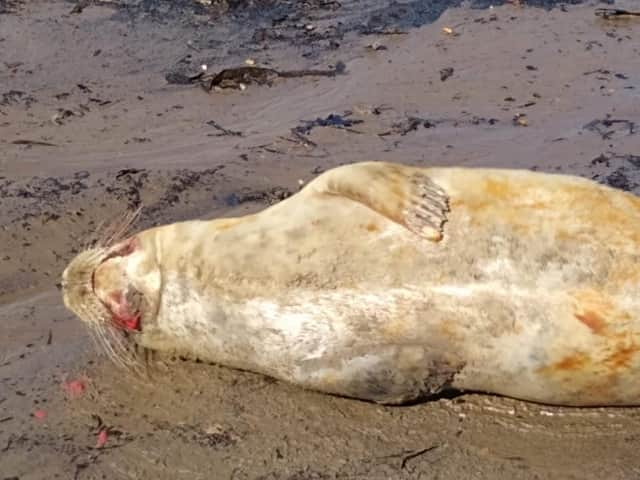 The seal was left bloodied following the attack. (Photo: Sally Bunce/BDMR)
The BDMLR said they were called to Whitby yesterday morning to reports of a dog attacking a seal as the owner stood by and watched.
Rescuers found bloody discharge down the slipway and around the seal's head, where it was having difficulty breathing and was gasping for air.
A BDMLR vet made the decision to lift the animal due to its condition; the medic at the scene managed to restrain the 37kg seal with the help of a member of the public.
The seal was left bloodied following the attack. (Photo: Sally Bunce/BDMR)
The seal was transferred to a vets for assessment and is now recovering at Tynemouth Seal Hospital.
In March the BDMLR were called to Whitby beach in similar circumstances when a member of the public reportedly kicked a seal pup and set dogs on it.
North Yorkshire Police said they received a call at 8.20am yesterday about a stranded and distressed seal on the beach in Whitby.
A spokesperson said: "There were concerns that the presence of people and dogs was causing further distress to the seal and a member of the public encouraged them to move away.
"Police attended the scene and found the seal on its own and the matter was handed over to marine life rescuers."
What should you do if you find a seal in trouble?
If you see a seal that may be abandoned, thin, ill or injured, then call the BDMLR or RSPCA for advice and assistance.
BDMLR: 01825 765546 (24hr) or RSPCA (England & Wales): 0300 1234 999
The BDMLR say you should not approach a seal, or allow children or dogs near it. Seals are wild animals and although they look cute, they will defend themselves aggressively if necessary.
They also say do not chase it into the sea as it could endanger the seal's life if it was injured or ill; being on the beach does not necessarily mean there is a problem.