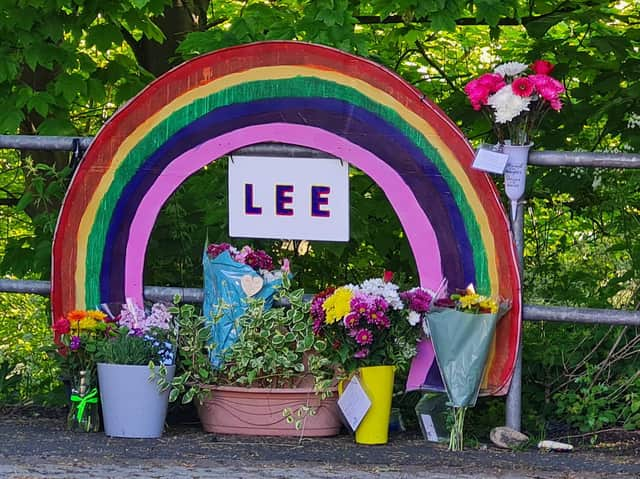 The memorial for Lee Cowling. Picture: Lucy Barnes
Lee died suddenly on Friday June 5 2020, aged just 46.
Prior to his death, Lee had helped to create a rainbow memorial on Sands Lane for the NHS which children from the area were invited to paint.
This year people from the community re-erected the rainbow, which had become weatherbeaten over that past year and again asked for helpers to paint it to make it a permanent memorial for Lee.
Children painting the rainbow. Picture: Lucy Barnes
Lucy Barnes, whose husband worked with Lee on the lifeboat, said: "The rainbow came about last year in lockdown, it was Lee's idea to put it up for the NHS.
"He sadly passed away and the tribute then became to Lee, we turned it into a bit of a tribute to him.
"It's nice to have it back up and vibrant again."
The memorial has been lacquered and had Lee's name written on it.
He joined Filey Lifeboat in January 1992 at the age of 18, having been a member of Filey Sea Cadets since he was 12.
Members of the lifeboat crew Lee worked alongside laid flowers for him on the anniversary of his death.
Lucy explained how the rainbow had been a real community project in a quiet area of Filey.
"It was something we felt we needed and wanted to do for him," she said.
Though she didn't know Lee well, Lucy said he always had a big smile and was known for getting involved in events in the community.
He was instrumental in restarting the annual raft race in 2015 which attracts thousands of visitors each year.
Lucy continued: "He was such a community guy, that's why we've done [the rainbow]."