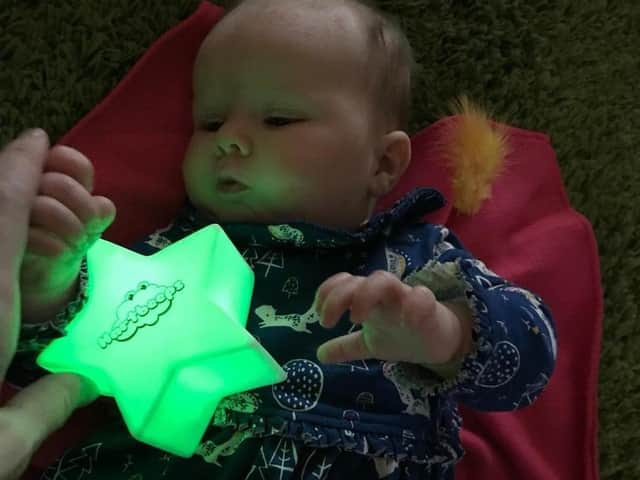 Children love the sensory light stimulation
The class has been brought together by Anna Watson of Hartbeeps, Whitby and Cleveland and Esk Moors Caring.
It will be held at the Bradbury Centre in Castleton, and children from birth to five years are welcome to attend.
Anna, 33, said: "The session will be a musical and sensory adventure, with puppet characters, play parachutes, dressing up, bubbles and twinkly lights.
Anna with daughter Beatrice
"The theme will be 'Up in the air' and will be about the weather. We'll be singing some original songs and some remixed classics such as 'I Can Sing a Rainbow,' 'Catch a Falling Star' and 'Twinkle Twinkle Little Star."
Anna, from Danby, who also runs Hartbeep sessions in Skelton, Guisborough and on a Thursday at the WHISH Sensory room in Whitby, said: "I'd seen an article in the paper about getting young and old together and the session came from that."
"We hope to continue to do this on a monthly basis and there will be tea and biscuits afterwards to allow time for a chat and to get to know each other."
The intergenerational music session takes place on Wednesday January 29 from 10-11am at the Bradbury Centre. For more information contact Anna by emailing [email protected]
Engaging young minds through music
Enjoying a Hartbeeps session