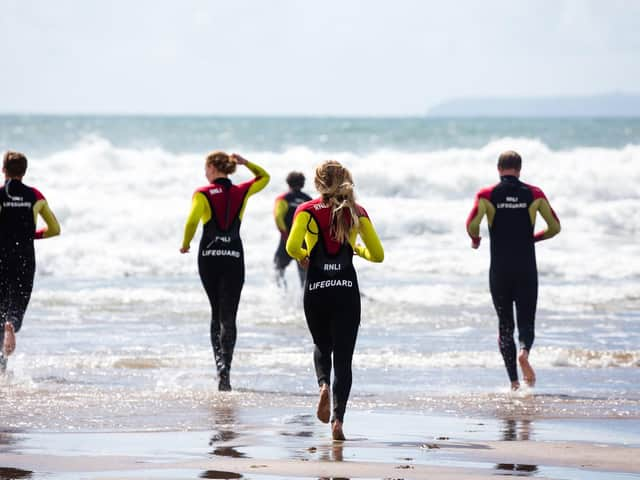 Lifeguards are returning to beaches this weekend.
Since lockdown restrictions were eased in May, the RNLI has worked hard to roll out professional lifeguard patrols on more than 100 beaches in England, Northern Ireland and
This weekend (July 4), that number will increase to more than 160, including at Runswick, Scarborough North and Filey, with lifeguards returning to Sandsend on July 11.
These services add to those at Saltburn, Whitby, Scarborough South and Bridlington South beaches, which went live in June.
Cayton Bay remains without a lifeguard service.
New measures to deal with the Coronavirus mean the RNLI lifeguard service looks a little different this year.
Lifeguards will wear PPE like ambulance crews in some situations.
The lifeguards may not deal with some minor first aid cases but will support people to treat themselves.
They will also try to keep socially distant from beach goers, and may need to adopt different patrol methods at times, such as not using the red and yellow flags and asking people to keep apart but close to shore, to help keep people safe while maintaining social distancing.
The charity is also continuing to urge anyone planning to visit the coast to remember to:
 Have a plan - check the weather forecast, tide times and read local hazard signage
 Keep a close eye on your family – on the beach and in the water
 Don't allow your family to swim alone
 If you fall into the water unexpectedly, FLOAT TO LIVE. Fight your instinct to thrash around, lean back, extend your arms and legs, and Float
 In an emergency dial 999, and ask for the Coastguard
Darren Lewis, RNLI Lifesaving Manager, North and East said: 'This could be the busiest summer ever for both our lifeguards and our lifeboat crews.
"I want to thank all those lifeguards who have already started their patrols or are now preparing to get back on the beach – they know this will be a challenging summer and are doing a brilliant job helping to keep the public safe during this pandemic.
'We must all continue to be aware that the risks from the pandemic have not gone away, but if people work with us and the other emergency services by following social distancing and
other Government guidance, we hope to be able to continue to provide lifeguard services this season.
"I'd like to thank all our partners – from Her Majesty's Coastguard, to local councils and landowners – who are also working hard to help us patrol as many beaches as possible."
The team responsible for beaches and bathing waters at Scarborough Borough Council said all but two of the beaches in theborough that would normally be patrolled by RNLI lifeguards at this time of year, will have the service provided.
"We ask all beach users not to put themselves, their families, other beach users and the lifeguards at risk," a spokesman said.
"Be responsible and sensible, pay attention to the messages conveyed by RNLI signs and flags and above all, stay safe."