Scarborough Hospital helipad sees 30 landings in less than 18 months
The helipad at Scarborough Hospital has now seen its 30th landing since it became operational just under 18 months ago.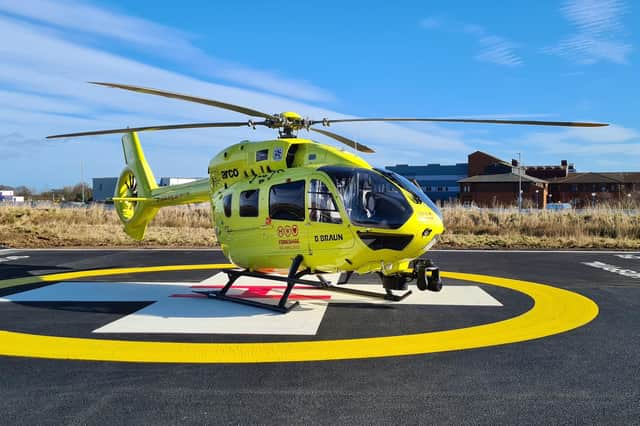 The helipad was built after the HELP Appeal – the only charity in the country dedicated to funding NHS hospital helipads - donated £500,000 to cover its entire construction.
The larger helipad accommodates both air ambulances, and the much bigger search and rescue helicopters, making a huge difference for incidents out to sea.
Its state-of-the-art lighting has enabled landings during darkness hours, meaning that patients are taken by air to Scarborough Hospital 24 hours a day.
Patients at risk can also be swiftly transported to major centres of clinical expertise for specialist treatment.
Simon Morritt, Chief Executive, York and Scarborough Teaching Hospital NHS Foundation Trust, said: "As a coastal town, Scarborough faces unique challenges with its rural location and the sea on one side.
"The new helipad is already making an enormous difference at Scarborough Hospital and I'm sure will continue to benefit residents and the countless visitors to the town for many years to come."
Robert Bertram, Chief Executive of the HELP Appeal said: "The new helipad is saving time and saved lives.
"As air ambulance patients' injuries and illnesses are so severe, every second counts in getting them to the hospital for lifesaving treatment.
"We are so proud that the HELP Appeal's donation has helped Scarborough Hospital to treat patients as quickly as possible."
Steve Waudby, Director of Aviation, Yorkshire Air Ambulance said: "Provision of a primary landing site at any hospital the YAA helicopters land is key to our operations.
"The helipad at Scarborough allows the swift transfer of the patient from our helicopter straight into the hospital, which is crucial to their treatment and subsequent recovery.
"The investment that has been made in the helipad at Scarborough has enhanced patient care, delivery and safety."
The HELP Appeal is the only charity in the country funding NHS hospital helipads and to date there have been 25,000 landings on the 25 new helipads it has funded. A further 20 have also been upgraded thanks to the charity's donations which have only been made possible thanks to the generosity of the public.