Scarborough's Woodend Creative Centre hosts launch of new couture collection
Renowned couture fashion designer Isabelle Randall has announced the much-anticipated launch of her first tailored collection since relocating to Scarborough.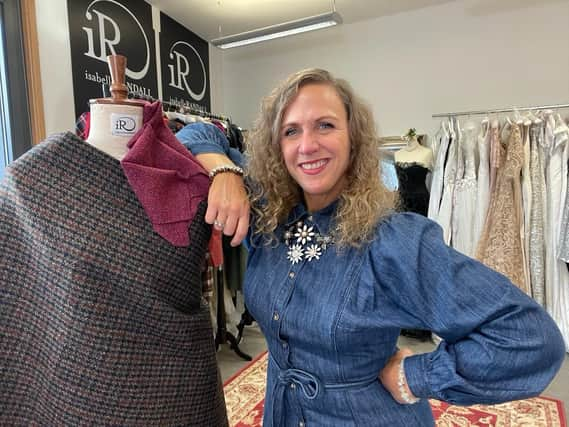 This exquisite collection titled 'Tailored Tartan & Tweed' is set to debut on Saturday, November 25 at the Woodend Creative Centre, promising a seamless blend of traditional craftsmanship and contemporary style.
Based at Woodend Creative Centre's Open Studios 'Christmas on the Crescent' event from 10am – 4pm. Admission is free and there are other activities running throughout the event with other open studios from Sara Nowell Art and Angela Chalmers alongside craft stands in the Conference Room and Santa in the Sitwell Library.
Inspired by Isabelle's profound admiration for impeccable tailoring and the artistry of garment construction, the collection stands as a testament to her passion for weaving together unconventional textile combinations.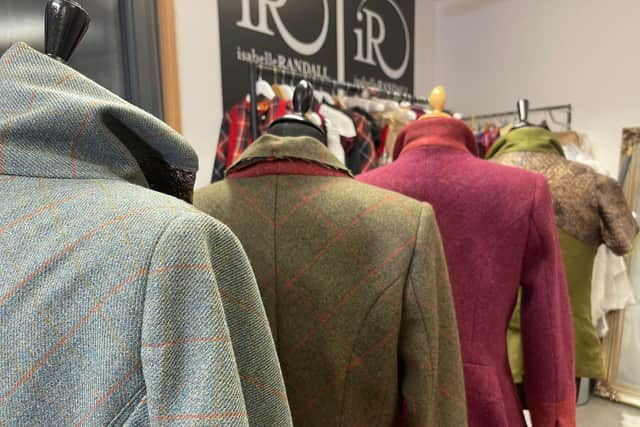 'Tailored Tartan & Tweed' embodies timeless designs infused with a refreshing, youthful allure, elevating classic fabrics into modern fashion statements.
Born in Yorkshire, Isabelle's journey took her to Scotland, where she discovered the artistry of fine fabrics, only to return to her roots in Yorkshire. Her experiences in both regions deeply influence her design philosophy, allowing her to marry the rich heritage of Yorkshire with the enchanting allure of Scottish textiles.
Isabelle Randall expresses her excitement about the collection, and said: "I'm delighted to showcase my first collection at Woodend: Tailored Tartan & Tweed. Craftsmanship and fine finishes are at the core of my designs, ensuring each garment not only reflects quality but also empowers the wearer, making them feel fabulous."
What sets this collection apart is the meticulous attention to detail evident both inside and outside the garments.
Isabelle's innovative approach incorporates various coloured linings, offering a diverse range of sensations and experiences with each unique piece. "The inside is as important as the outside," she emphasises, underlining her commitment to creating fashion that resonates with individual empowerment.
The focal point of the collection lies in the impeccable quality of fabrics sourced from esteemed mills.
Notably, the collection features an exquisite windowpane tweed and a houndstooth tweed sourced from the Dugdale & Bros. mill in Huddersfield, alongside the captivating Raspberry Coral Herringbone and the Raspberry Rust Blend from Harris Tweed.
Isabelle meticulously considers every component from conception to completion, ensuring an unmatched level of quality and sophistication.
This capsule collection is just the beginning, hinting at a broader array of designs in development. Isabelle Randall's fusion of Yorkshire's heritage with Aberdeen's charm is evident in every stitch, showcasing a blend of sophistication and versatility.
Whether paired with jeans and wellies for a casual outing or matched with a dress and heels for a formal affair, the collection exudes an essence of mix-and-match elegance.
From Yorkshire to Aberdeen and back to Yorkshire across almost 20 years, the 'isabelleRANDALL' Atelier stands as a testament to Isabelle Randall's dedication to creating exquisite garments that transcend time and trends.
Isabelle Randall established her Couture shop in Aberdeen in 2004, creating designer collections and accessories, a made-to-measure service and bespoke tailoring for men and women, following her training in Fashion Design at Leeds University and the Royal College of Art. She then went on to work for Haute Couture designers including Hussien Chalayan, Bella Freud and Roland Klein.
Since relocating to Scarborough in 2021, Isabelle has launched the Melrose bridal capsule collection and continues to take design commissions for unique bridal, occasion wear and tailoring.
For more information, visit the Woodend studio on Saturday, November 25 to experience the elegance and sophistication of 'isabelleRANDALL's Tailored Tartan & Tweed collection in person.