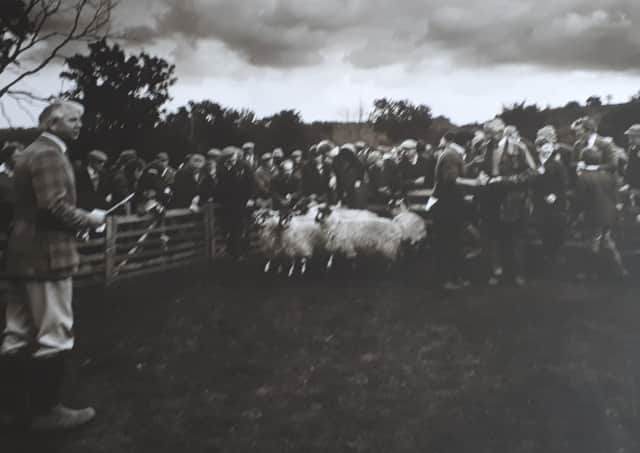 Ken Halley (left) at Glaisdale Sheep Sale, late 1980s
He attended Sleights and Whitby Grammar School before being articled to Richardson & Smith aged 17.
He was called up on National Service and was posted to Egypt where he contracted polio.
He spent a year in hospital before rejoining the firm and after qualifying as a chartered surveyor by correspondence course was made a partner in 1957.
He was passionate about his career and loved every working day.
He was never happier than when selling livestock at Ruswarp Mart, Glaisdale Sheep Sales or at any of the hundreds of farm dispersal sales he conducted.
He married June Dixon at Sneaton in 1961 and the same year bought and renovated Lowdale Hall, Sleights, where they lived for the next 54 years.
Cricket was an abiding love throughout his life, playing many years for Sleights and captaining them to several Esk Vale League and Cup titles.
He went on to play for Whitby 1st XI, being an integral part of the team that won the East Yorkshire Cup in 1984. He finally retired from playing aged 56.
Current partners at Richardson & Smith paid tribute to him this week with son Ian saying: "I was always very proud that he was known to be one of the leading livestock auctioneers of his generation."
James Smith added: "Ken was known throughout the district to be a highly respected and trusted agricultural valuer."
Robert Smith stated: "I will always remember him for his great sense of humour as well as the very high principles and professionalism he lived by."
Mr Halley died peacefully at his home in Sleights.
He leaves his beloved wife of 58 years, June, and sons Ian and Neil, daughters-in-law Odeyne and Jayne, together with very proud grandchildren Matthew, Danielle, Jack and Luke.
His funeral service is to be held at St John's Church, Sleights, at noon this Saturday (Jan 11).