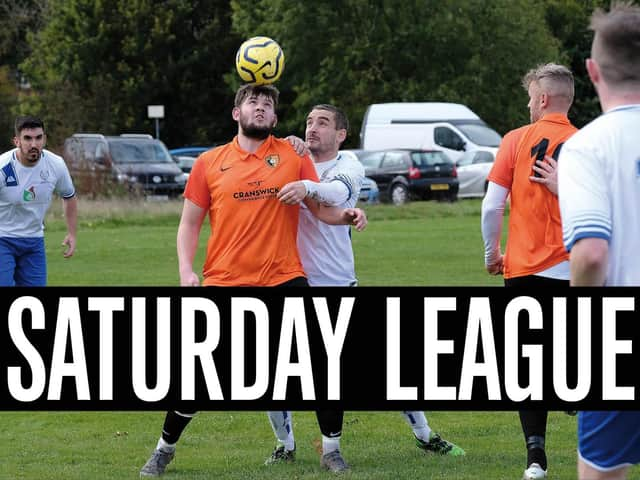 Saturday League round-up
Steve Clegg's side led 1-0 at the break through Joe Gallagher's header.
Edgehill then wrapped up the win courtesy of a second-half double from Ramm, with Jackson Jowett instrumental in both goals.
Young right-back Max Wright was Edgehill's star man.
Rovers boss Jordan Lee singled out Curtis Rose and goalkeeper Ben Rowe, but wasn't impressed with his side's performance.
"We were terrible, never got going, credit to Edgehill they were better than us all over the park," said Lee.
Newlands bagged a comfortable 8-3 win against Filey Town.
Dan Freer fired in four goals for Paddy Mancrief's side, with Drew McCoubrey also hitting a brace.
Ben Luntley and Liam Salt were also on target for the victors, whose man of the match was Jack Hakings.
On target for Town were man of the match Joe Gage, Lee Micklethwaite and Darren Lang.
Hunmanby United cruised to a 6-0 win at Scalby.
United were in control from the start, Ollie Milner bagging a brace with their other goals coming from Ryan Baldry, Ben Briggs, Leigh Franks and James Pinder in a comfortable win.
Seamer and West Pier's clash was called off due to a Covid-19 related issue.
In Division Two West Pier Reserves sealed a dramatic 5-4 win against Flamborough.
Pier were forced to battle back from 2-0 and 3-2 down to seal the points.
Callum Plant, star man Jack James, Shaun Dolan, George Wilson and Chris Mattinson were on target for Johnny McGough's men.
Man of the match Josh Wood bagged a brace for Flamborough, whose other goals came from Ross Pearson and Oli Robinson.
Edgehill Reserves cruised to an 8-2 win over Goal Sports at the Flamingo Land Stadium.
Veteran Liam Cooper rolled back the years as he fired in a superb hat-trick for Alec Coulson's side.
Also on target for the victors were fellow veteran Danny I'Anson, Matty Rowley, Joseph Fergus, Liam Coulson and an own goal.
In-form striker John Grayston hit both goals for Goal Sports, who had Alfie Hutchinson and Joe Yates in form.
Filey Town Reserves and Westover Wasps drew 1-1.
Johnny Hunter scored for Town with Brad Marshall on target for Westover.
Jack McFarlane and Jamie Hartley impressed for the Wasps, with Luke Kempson shining for Town.
Newlands Reserves were 2-1 victors against FC Rosette.
Mark Craven had Rosette ahead at the break, but Tristan Mustoe hit a second half brace to seal the win for Newlands, whose star man was Dylan Priestley.
Seamer Reserves won 4-0 against Eastfield Athletic.
Liam Love scored a brace for the victors, whose other goals were scored by Danny Price and Taylor Plant, while Chris Stubbings was their star man.