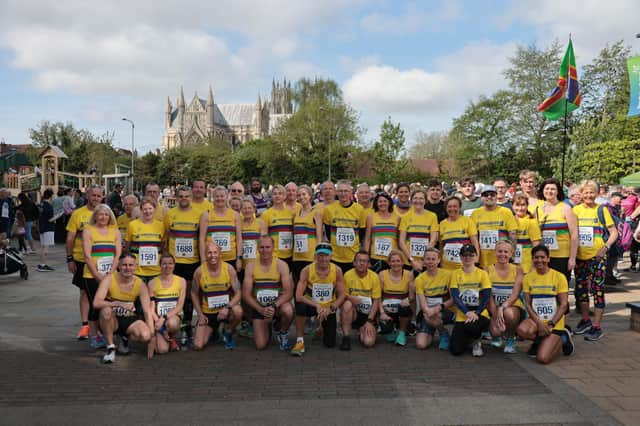 Scarborough Athletic Club members at the Beverley 10k
Jackson Smith was the first home for the club after finishing 24th overall of 1595 in 35.47 and the first Under-18.
The men's team was completed by Glyn Hewitt third Over-50 in 38.48 and Andrew Hopper fourth Over-50 in 39.49. Neil Scruton followed in 46.06 and was first of 16 Over-70 men.
Fay Hethershaw led the club's females in 45.50 and was second Over-50.
The women's team was completed by Claire O'Neil in a PB of 46.46 and Cara Shardlow in 48.21.
Jackson Smith led the way for Scarborough AC at the Beverley 10k, finishing in 24th place overall
R. Broadley 52.13 & 3rd O70
A. Kitto 55.37 & 3rd Over-65
Two club members competed in Bluebell Trail Races in the grounds of Temple Newsam.
Jennie Kettlewell took on a slightly over-distance marathon and finished up in 11th overall and fourth female in 5 hours 33 minutes.
Claire Hopkinson completed a tough 6.7 race in 1 hour 31 minutes.
The club's Lancashire based second-claim member Kevin Hutchings competed in the 10-mile event at Stainland in Calderdale, West Yorkshire.
He completed the 10.3 mile course which had 1,500 feet of climb in 2 hours 30 minutes.
Eighteen club members took part in the North Yorkshire Water Park parkrun.
For a second consecutive week, a club junior finished first overall for the club.
This time 14-year-old Harry Coles was third overall of 134 and first 11-14. His twin brother Alfie Coles was fifth overall and second 11-14.
Nicola Doody led the club's females after finishing eighth female overall and third Over-55.
T. Carrington 15th overall
Five club members took part in Sewerby Parkrun.
Pauline Elliott was first home for the club in 26th of 94 females overall and fifth Over-40.
All three of the club's Over-70 females were back in action and had another 1,2,3 finish result, Lesley Bayes led Patricia Keenan and Mary Slater. Alan Keenan was first Over-75.
Three club members took part at Dalby Forest Parkrun.
Robert Preston was second overall of 92.
Pete Northedge was first Over-75 for the first time after a recent birthday. Mitchell England was third 11-14.
Harry Whitehouse was the only club member at Whitby Parkrunand finished 68th overall of 96 and first Over-70.
April Casey ran the Mole Valley Parkrun at Dorking, Surrey.
She finished 21st female overall of 66 in 31.39.