WHAT'S ON: Bridlington's Sewerby Hall to host a number of spooky activities over halloween and half term
Spooky Sewerby returns to Sewerby Hall and Gardens this October half term, with a full week of fun events and activities for all ages.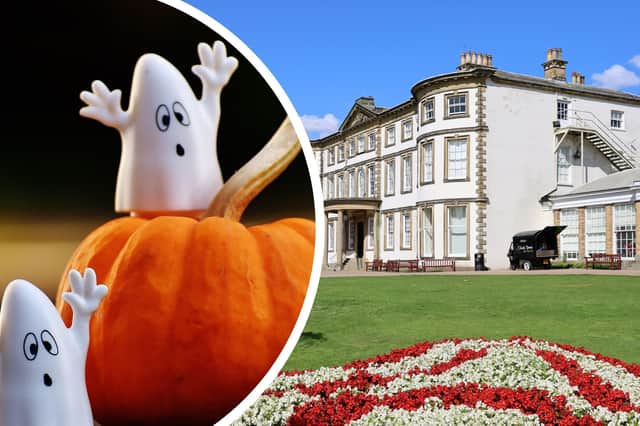 From Saturday, October 28 to Sunday, November 5, there will be a chance to visit the Halloween Spooky Gardens at Sewerby Hall, which will include a range of spooky characters waiting to be found.
Councillor Nick Coultish, portfolio holder for culture, leisure and tourism, said: "Spooky Sewerby is always great fun and very popular! Come along with the children and grandchildren and get involved with these great Halloween themed activities!"
Halloween Spooky Magic Days and Face Painting: Professor Bubbles and his spectacular spooky magic show be in The Orangery, with face painting outside. Will take place on Saturday, October 28, Wednesday, November 1 and Saturday, November 4, from 10.30 am to 3.30pm.(£3 per child, cash only).
Rusticus Adventure : Escape from the Haunted Forest!: Visitors will tackle puzzles and the challenges of the haunted forest, and try to work out the identities of the ghostly creatures. Takes place on Monday, October 30, from11.30am – 3.15pm.
Rusticus Ghost Hunting Adventure!: The hapless professor will be on the hunt for ghosts in the grounds, but the ghosts are playing tricks- visitors will have the chance to make mischief in the woods. Takes place on Tuesday, October 31, from 11.30 am – 3.15pm.
Rusticus Wizarding Adventure!: Archwizard Fumblefoot has called a great wizard gathering in the grounds. Visitors will conjure, magic and ward off a dragon attack and save the world. Takes place Thursday, November 2, from 11.30am-3.15pm.
Zoo activity- Halloween Scary Fat Balls: Visitors will have the chance to make Halloween themed fat balls with seeds, to take home. Takes place Friday, November 3 from 11am-12pm.
During the holiday week, there will also be chances to join the Wildcats for some seasonal crafts. Activities will include:
Wildcats- Nightmares and Monsters: Dispel darkest fears with the Wildcats, and, in this crafting session, make the scariest monsters and nightmares, then take them home to tame them. Takes place Sunday, October 29 from: 11am-3pm.
Wildcats- Shadow Puppets: Using the Wildcats' selection of natural materials, create characters for a puppet show, in a shadow puppets session. Takes place Friday, November 3, from 11am-3pm.
Wildcats- Wild Weather: Autumn can be wild and stormy, with howling winds and driving rain! Join Wildcats to explore wild weather in their crafty session. Takes place Sunday, November 5, from 11am-3pm.
In addition, Sewerby Hall is presenting its first 'Scareoween' scare attraction this Halloween season. Set inside the historic hall, this brand-new scare entertainment experience for brave families, friends and those who dare to enter will combine live performers and special effects to immerse guests in a walk -through living ghost story.
The production is being designed and produced by AtmosFEAR! Scare Entertainment, Europe's biggest scare entertainment company, who have produced similar experiences all over the world.
The spookiness will continue with Eerie Tales in the Courtyard, performed by Spotlight Theatre, where guests will be able to grab refreshments from the Clock Tower Café, and to watch, listen and be prepared to be transported to the Victorian era, with ghoulish characters sharing chilling tales.
There will also be Mystical Tarot Card readings: an opportunity to take a chance with fate with Tarot Card readers, who will be offering guests a personal Tarot Card reading to explore the mystic arts and peek into their future.
Provided by Mystic Spellpot, the Tarot Card readers will be offering a five-card read in the Sewerby Courtyard via the shop.
Scareoween will be open nightly between Thursday, October 26 and Tuesday, October 31, from 6pm.