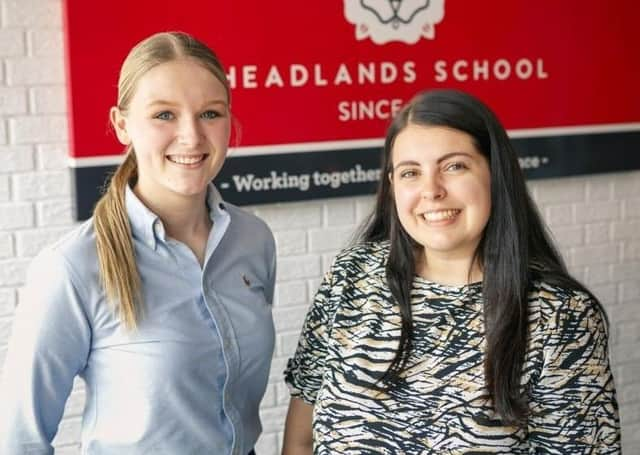 Scholar Isabelle Marshall is pictured with last year's scholar Sophie Coates.
A spokesman said: "Throughout Years 12 and 13, our sixth form students have worked incredibly hard, supported by our superb Sixth Form teachers and leadership team.
"As a result, they have secured some truly inspiring academic A-Level results – despite the incredibly difficult circumstances over the last few months.
Half of our 40 A-Level students have secured places at Russell Group universities in September. What does this mean?
"The Russell Group's 24 members are world-class, research-intensive universities.
"They have huge social, economic and cultural impacts locally, across the UK and around the globe.
"25% of our students secured an A-Level A* / A grade, 62% of students achieved an A-Level A* - B and 85% of students achieved an A-Level A*- C.
"Luke Sissons was our top performing student securing A*, A, A, A, and he is now going on to study Mathematics at Durham University.
"Olivia Kelly has secured her first-choice place at Sunderland University Medical School to study Medicine in September having gained A*, A, A in her A-Levels.
"Yasemin Dogan secured her first-choice place at Leeds University to study Law, achieving A, A, B grades.
"William Jaggar secured his first-choice place at Bristol University going on to study Biochemistry with A, B, B grades.
"Wan Lok secured his first-choice place at Leeds University to study Medical Sciences achieving A, B, B grades.
"Anthony Neal secured his first choice and is heading to Durham University to study Archaeology achieving B, B, C.
"Alongside this, Luke Wright and Isabelle Marshall, our Headlands Sixth Form Scholars this year, have both succeeding in receiving a grant for £30,000 to pay for their university tuition fees.
"Luke is going to York University to study Archaeology, having achieved B, B, C in his A-Levels and Isabelle is going to the Hull York Medical School to study Medicine, having achieved A, B, C. A huge well done to both!
Headlands School headteacher Sarah Bone said: "Across a range of academic A-Level subjects, students have secured excellent grades this year – this is despite the Ofqual standardisation process downgrading 67% of our students' A-Level grades.
"We have raised this significant concern directly with the Association of School and College Leaders and will continue to press the Government and exam boards to look into this matter with urgency. We await further details from the Department for Education as to how we can support students who wish to appeal these utterly bewildering decisions.
"The team here at Headlands School are exceedingly proud of our Year 13 cohort of students.
"We wish all them the best of luck in the next stage of their education or career journey."