Entertainer Ryan's delight at People's Choice Award win
MALTON entertainer Ryan Swain has won The People's Choice Award in the first-ever Northern Regional Entertainment Awards 2020.
Tuesday, 29th September 2020, 11:45 am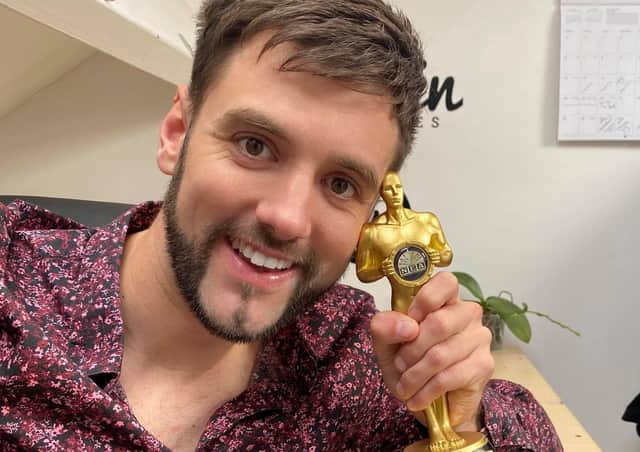 Malton-based entertainer, singer and artist Ryan Swain.
The 30-year-old picked up the People's Choice Award in The National Entertainment Awards for the second consecutive year in London on Sunday which was broadcast live from a TV studio online adhering to the Covid-19 rules.
The awards showcase the talent across the nation, along with recognising and rewarding acts within their particular fields in music, dance and variety.
Ryan has entertained thousands of people of all ages online during the lockdown hosting his interactive game show Play Your Cards Right on Instagram which was played by top celebrities, carers and key workers, children's shows with his puppet Frank Lamingo and live streaming his popular DJ sets across charity pages and groups on Facebook helping to raise over £20,000 for NHS Charities.
He has also been very busy creating new artwork which he set to exhibit in 2021.
Ryan said: "I am truly flabbergasted with this. I cannot thank all of you people that support me and get behind me enough but I will try.
"I am just a working class lad from Malton that gets a huge amount of satisfaction out of making people laugh and smile on stage. I enjoy sharing my happiness with others.
"Thank you for all of your votes and kind words and a huge thank you to my mum, dad and brother Trent, girlfriend Crystal and my beautiful daughters Ivy and Isla and all of my family, friends and fans for making me want to progress even further and their continued support.
"I am not a performer to just sit back on one merit like some do in the industry, I will keep progressing, changing and adapting but most of all trying new creative ideas and ways to keep people entertained of all ages."