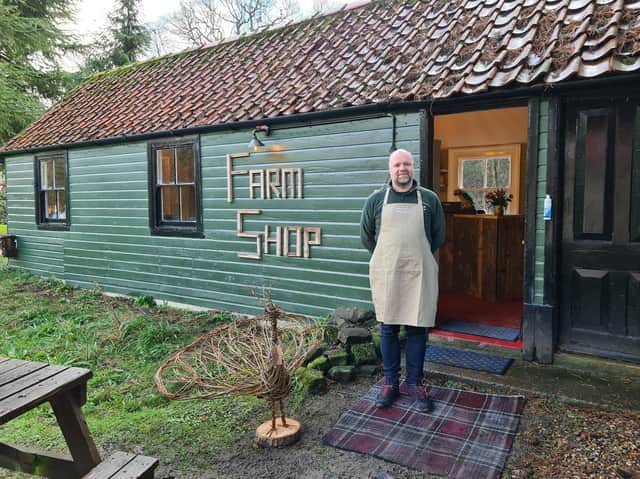 Craig Shell outside the new farm shop at the Horseshoe Hotel in Egton Bridge
Fast forward twelve months and the family have re-invented the popular North York Moors pub and hotel, to enable them to trade during the pandemic.
They have added a number of inventive features including an outside bar, barbecue area and as of New Year's Day, a brand new farm shop, bursting with locally sourced products.
The trio, who are originally from Brighton, moved to North Yorkshire on January 2, 2020. They spent several weeks renovating the property and opened for business on February 13.
The shop offers a wide range of items, including cheeses from Botton Village
Craig, a former manager and chef at a 50-bedroom hotel in Maidstone, said: "We've upgraded the rooms to encourage people to stay and eat with us.
"We've become a dog-friendly hotel and each room has a dog bed and bowl, dog treats, a shampoo bar and special biscuits. They even get a sausage for breakfast!"
But after being open for just 35 days, lockdown came into place and the hotel was forced to close.
Craig said: "To be honest, we didn't find the first lockdown too bad. In January and February we had concentrated on the inside of the hotel, so it gave us a chance to do the garden and outside bar."
Craig with mum, Sharon Shell, inside the shop
Once lockdown lifted Craig said the new areas worked really well. They hosted hog roasts and lamb roasts and cooked fish on the barbecue. Feedback from the customers was really good.
Craig said: "When we got here the pub hadn't changed for a number of years. We wanted to keep locals and attract a younger crowd. We're pleased with how it's going and we're getting good feedback from the locals."
The three then turned their attention to the former lodge in the hotel's garden. Up until the 1970's, the building played host to the world famous Gooseberry Show.
Craig explained that the grade II listed building had previously been through several incarnations, including being used as an ice cream hut and a holiday cottage, but with no insulation and no heating, the structure was not viable as year round accommodation, so they put in a change of use planning application to become a farm shop and the application was granted.
A range of locally sourced crafts and other items are also available
The shop is an eclectic mix of luxury foods, attractive looking meat and vegetables, specialist cheeses and baked goods.
Ready-made meals and home-made meat pies (complete with gravy) to cook at home are also available, as are a range of crafts and greeting cards.
Craig said: " We're sourcing locally as much as possible. We're using Botton Village where we can. In the summer we were buying their meat, jams and chutneys and from their bakery. The creamery is still running so we are able to supply their lovely cheeses.
"Our soaps are handmade in Malton, silver is fashioned by a lady in Castleton and crochet bears are made in Fryup.
Specialist and luxury ingredients are also available
"There is glass by Carla Blackman who runs Coopers Cafe in Whitby, metal work from Simon Wilkinson in Glaisdale and wooden toys from Botton Village.
"The cakes, savouries, quiche and bread we're making ourselves."
The shop can be found in the grounds of the Horseshoe Hotel in Egton Bridge and is open 10am-4pm, seven days a week, throughout the year.