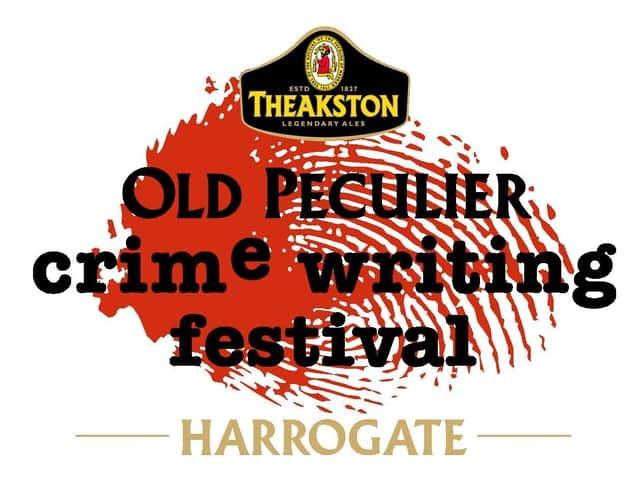 Old Peculier Crime Writing Festival will be held in Harrogate
Taking place in Harrogate, from Thursday July 22 to Sunday July 25, after expected lifting of restrictions on Monday June 21, - the Festival will celebrate a return to live events after a difficult and uncertain year for Harrogate International Festivals.
Forced to cancel the Theakston Old Peculier Crime Writing Festival, alongside its wider summer season in 2020, the arts charity moved online, welcoming new audiences and taking the experience of 'Harrogate' to the world.
The return to a live event, announced on social media, was well received by audiences, with more than 80 per cent of early ticket bookers for last year's estival having already transferred their tickets to this year.
After the lockdown saw a soar in popularity of the genre in the bestseller charts, as more and more readers turned their fiction interests to crime, the 2021 Theakston Old Peculier Crime Writing Festival, supported by T & R Theakston, will celebrate crime fiction in all its kinds, with a programme curated by Programming Chair Ian Rankin alongside the acclaimed Festival Committee and the Harrogate International Festivals team.
Chief Executive of Harrogate International Festivals, Sharon Canavar, said: ''Whilst the ongoing Covid-19 pandemic has proven to be extremely dynamic with rules and regulations changing constantly, the Government roadmap suggested a return to normal by this summer.
"We are adapting and evolving our plans to be able to deliver a safe and agile Festival in line with the government regulations at the time, with additional safety measures where necessary, whilst also ensuring the Theakston Old Peculier Crime Writing Festival retains the iconic feel that has ensured its place as the most successful crime writing festival in the world.
"We remain optimistic about the year ahead and like people across the UK, we are very much looking forward to the return of live events."
Festival fans can expect a range of live author talks, panels and special guests, as well as some hybrid events to ensure that audiences who are unable to travel can access the festival.
The full author line-up,and ticket-on-sale dates will be announced in the coming months.