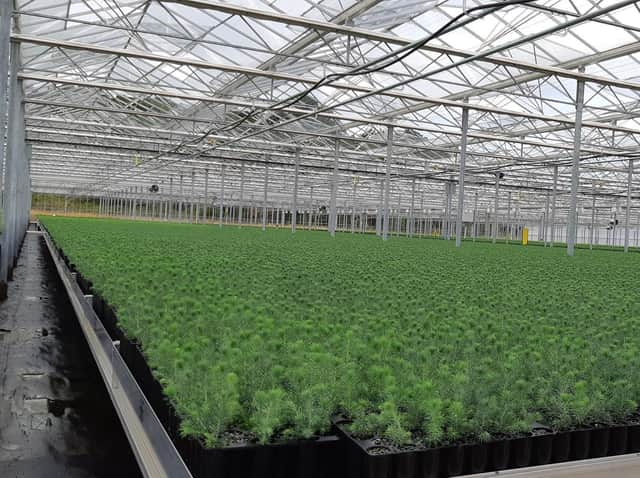 Photo of a Forestry England nursery. Issued by Forestry England
Forestry England has decided to shut its nursery in Wykeham in April 2022, despite pledges to build more trees.
It is understood the closure will hit 10 employees and 30 agency staff.
Forestry England has said it will concentrate tree seedling production at its Delamere facilities in Cheshire.
Its consultation on the closure was extended after a request from unions, and it said it had considered alternative proposals, but no new viable option had been found.
"This has been a difficult decision, but we need to be efficient and ensure we have a viable long-term supply of tree seedlings for the woodlands we create and manage," said Forestry England.
"Although demand for trees is generally increasing across the UK forestry sector, and we expect to plant an additional 1 million trees each year from 2022, the demand for trees from Forestry England's nurseries is set to reduce by more than 5 million plants from 2021 as public sector customers Natural Resources Wales and Forestry and Land Scotland buy their seedlings from private sector nurseries.
"Climate change is also starting to directly impact on nursery operations, and we need to modernise as well as scale up the production of a wider range of tree species which can thrive in a warmer, drier England of the future. Focusing our operations at our Delamere nursery will allow us to do that."
Chief Executive Michael Seddon said: "Our immediate priority is working with our team at Wykeham and putting every effort into helping them through this difficult time.
"We are aiming to redeploy as many colleagues as possible and minimise any redundancies. This will be a stressful time for everyone involved and we are determined to offer the support our staff need in the lead up to the nursery closing in April 2022."
Scarborough's MP Robert Goodwill said: "It does appear that Forestry England have failed to invest in the latest technology and therefore failed to maintain the competitiveness of their own in-house tree nursery, which seems very disappointing but to be honest does not surprise me given the impression I have always had of the Forestry Commission that it is often overly top-heavy with management and bureaucratic, compared to many private sector operations.
"It was very disappointing around 10 years ago that we did not manage to privatise the Forestry Commission because I believe that would have meant that the nursery would have been put in the hands of those more competent to run it and the necessary investment would have gone in, because they wound not have felt insulated from the competitive pressures that appear to have resulted in under investment in technology."
He has written to Chairman of the Forestry Commission, Sir William Worsley, expressing his concern.
An early day motion has been tabled in Parliament calling on the Government to intervene in the closure which has so far been signed by 12 MPs.