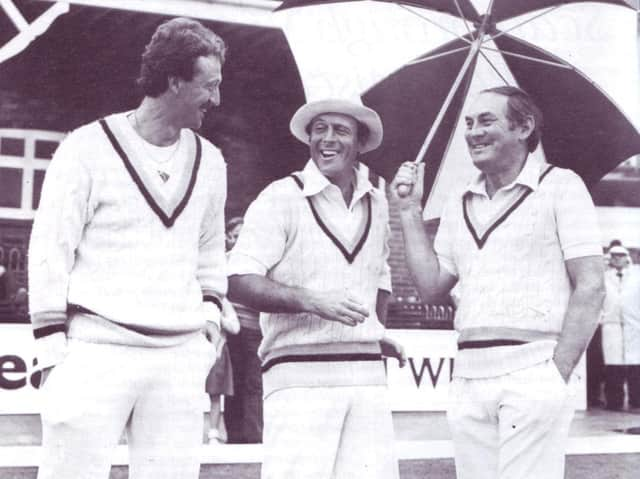 Sir Geoffrey Boycott shares a joke with Arnie Sidebottom and Ray Illingworth in front of the pavilion at North Marine Road during Yorkshires County Championship match against Sussex in 1982
Yorkshire and England legend Boycott was speaking to The Scarborough News on the back of winning a poll on Twitter to determine the best player to play at North Marine Road, edging out fellow Yorkshire legends Michael Vaughan, Darren Lehmann and Fred Trueman.
"It was very surprising," said Boycott of the result.
"People forget don't they, and it's been a while since I played there - but it's lovely to be recognised in this way by the fans."
Just the mere mention of Scarborough arouses a great deal of passion from Boycott.
"I love Scarborough and loved playing there, who doesn't?" he added.
"Yorkshire members, fans, players and officials have always loved travelling over to Scarborough - it's a wonderful place.
"From walking round the Marine Drive before the game, to arriving at the ground and playing on a great pitch with good pace and bounce, to getting fish and chips afterwards, what's not to love."
Boycott finished his career at North Marine Road and remembers the final time he took to the field vividly, though frustration still lingers.
"I should've made a hundred in my final game at Scarborough, but dozily ended up running myself out in the 60s," said Boycott.
"It was September 12 1986, 5.21pm to be exact that I remember finishing the game and taking a long time to get changed and sorted - put my coat on and had a slow lap of the ground with only the cleaners left in picking up the rubbish after everyone had left.
"I knew I was finished and that was that for me and I never picked up a bat again.
"Still, Scarborough was a good place to finish my career."
Boycott's tales of his time by the coast are endless.
"I recall walking into the ground one morning, parking my car next to The Cricketers Pub over the road, and who should I pass on my way into the ground but Jimmy Tarbuck, who was walking his dog," exclaimed Boycott.
"I asked him what he was doing here, he replied that he'd come to watch me bat and then he was heading home.
"I also used to head up to the offices at the ground after I was out and occasionally answer the phones up there.
"'Is he still batting?' the voice on the other end would say, and I'd reply 'No, you're talking to him now.
"Whether they believed it was me or not, I'm not sure, but I have nothing but fantastic memories of Scarborough - what a wonderful place."
Boycott made 12 centuries at North Marine Road, eight of them unbeaten, including a memorable ton against Australia in 1977.
"In 1977 I had made myself available for England selection again and before I was picked I was in the Yorkshire side to play at Scarborough, against who else but the Aussies," recalled Boycott.
"A lot of people came to watch the match and we batted first - but I was out lbw to Max Walker in the first over - well that went down like a lead balloon.
"So out I went for the second innings sweating as I was on a pair, but I managed to make 103 with a fantastic crowd cheering me on, wonderful memories."
Fast-forward to 2020 and North Marine Road is one of many cricket grounds with its gates locked and hope of a return to action any time soon looking bleak as the world is gripped by the clutches of the coronavirus pandemic.
Boycott can't see much, if any cricket being played this summer, but believes people need to keep things in perspective and health is much more of a priority.
"People need to keep things in perspective here with this virus," exclaimed Boycott.
"Yes, it's sad there's no cricket being played, but people are dying from this virus and people's health is much more important.
"People keep talking about the economy and when sport will return, but these things won't be concerning you if you're six foot under will they?
"The British people are a resilient bunch though and we will bounce back from this.
"There will be tough times ahead for many, but like I said, we will bounce back from this."
Hot on the heels of The ECB's new 100-ball competition being pushed back to 2021 and while talk of games being played behind closed doors circulates, Boycott can't see Yorkshire or England getting any action in this summer.
"No I'm not very hopeful, I don't think so - I think it's too difficult I really do," added Boycott.
"I can't see Yorkshire playing any time soon and possibly not even England too, but this virus is a killer so putting a stop to the spread is the most important thing at the moment.
"Cricket will return, Yorkshire will return, games at Scarborough will be back, but people need to put their health first at the moment.
"I don't see the big issue with sport at the moment - seven days a week people are losing their lives, families are mourning losses, we need to keep it in perspective."