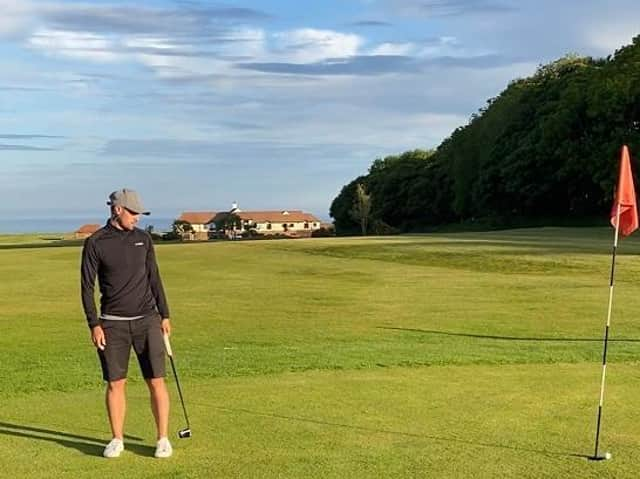 Alex Belt's new coaching course will be based at Bridlington Links
The Bridlington ace was in international action shortly before the outbreak caused sport to be halted around the world, but now that the country is starting to recover from the effects of the pandemic, he is eager to help fellow golfers with new coaching sessions at Bridlington Links Golf Club.
A week before the coronavirus outbreak Belt was in Egypt playing in a Mena Tour event, having two weeks earlier played an event in Jordan.
Belt said: "Thankfully I was due home anyway, many of the players continued their journey to the next tournament which got cancelled halfway through. Many of the players had difficulty getting back to their home countries.
"The lockdown has had a very large impact on the golfing world in general, from international tours to local golf clubs closing their doors.
"It's affected my profession in a way where it is very difficult to be able to predict when, or if ever we will get back to where we once feel golf was.
"Many tournaments and the players have sponsors that can no longer commit to the funds required due to these unforeseen circumstances.
"During the lockdown I've managed to work on my own game as best I could with constant video calls with my team of coaches and mentors in order to stay focused and be as productive as possible.
"We also had a few educational webinars on Zoom with Lee Sharpe, the ex-England footballer, which was fun."
Belt qualified as a PGA pro in 2007, since then he has played full-time on tours around the world, most recently on the PGA Tour and CGA Tour of China in 2017 and 2018.
He added: "I went to live in China in 2019 to reduce the amount of travel. I lasted approximately three months before I decided that I missed fish and chips on a Friday night way too much!
"The culture was very, very different, but I already knew that. A lesson learnt."
Belt's most recent achievement saw him win the Northern PGA Order of Merit then qualifying for the European Tour PGA BMW at Wentworth, playing the first two rounds with Korean superstar Beyun An in 2015.
He added: "Along the way I've also won two PGA Europro Tour events which were televised on Sky Sports .
"My best year as a golfer came in 2014 where I won 24 tournaments ranging from one-day to three-day events.
"I've always had a coaching staff supporting me for over a decade, they include my swing coach, my biomechanist, my psychologist, my putting coach and holistic guru.
"I've always had a very big interest in optimising performance on and off the course, over the years I've often found myself driving up and down the UK heading for seminars and day courses.
"The majority of these were nothing to do with golf, but I implemented lots of what I was taught into my wellbeing and ultimately my golf.
"Before the lockdown I have always had an appetite in helping others, golf is one of the very few sports where professional athletes help each other, this can often be found at golf club level also.
"I think maybe this has something to do with the fact that we all appreciate how hard this game can be, often chewing us up mentally and spitting us out.
"During the lockdown, I found myself helping fellow pros with various topics surrounding golf.
"I like sharing this insight I've been taught from my team, the experiences that I've had in golf and the information I have sorted out myself.
"In a way it helps me recap and reinforces my philosophy and belief systems."
Last winter in his off season Belt was teaching at the new indoor golf studio at Bridlington Golf Club.
He added: "I enjoyed sharing my 14 years experience with the students.
"I was extremely surprised that 90% of golfers I taught had absolutely no idea of some of the areas that I was talking about, this accelerated their learning in a way that gave me great satisfaction.
"During the lockdown I wrote a few ideas on how I could introduce lots of the areas that I've found helpful over the years with others.
"These topics can not be learnt in a one-hour session. If golfers of all levels think that by having the odd hour golf lesson will drastically improve their golf then take it from me, they are mistaken.
"This is one of the reasons I feel so strongly that kids need to get out and learn golf and be outdoors, junior memberships are now extremely affordable at most clubs!
"This insight into my time coaching last year led to conversations with my team at ZEN Golf who have developed various learning strategies for golf coaching and the coaches, incorporating scientific research and collaborations with Sheffield Hallam Uni ZEN founder and my mentor Nick Middleton kindly allowed me to use the rights to certain concepts mixed with my insight and experience.
"This led to the creation of The AlexBeltCollective mentorship programmes. I'm testing and refining a 30-day programme that includes every aspect of a golfer's needs in order to accelerate learning.
"I'm currently aiming at the intermediate - low - elite level golfer, the beginners programme will be on the agenda at some stage in the future.
"The 30-day programme consists of a one-on-one session three hours per week, with manageable coursework and self development plans between sessions included.
"Each monthly course will have insight to a group chat where thoughts, motivation and guidance will be shared.
"The bespoke programmes are limited to eight to 10 people per month and each member will receive a 30-day membership at Bridlington Links Golf and leisure club as that is where I will be based.
"I'm very excited to officially start this in July. Nothing to my knowledge has ever been done like this nor can be truly replicated if it was copied.
"I'm hoping to help change the way that golf is taught and understood for the benefit of the members willing to think outside the golfing box .
"My Instagram account is @AlexBeltCollective and my information site is https://alexbeltgolf.wordpress.com/ an official website and Facebook page will be up and running over the coming weeks."