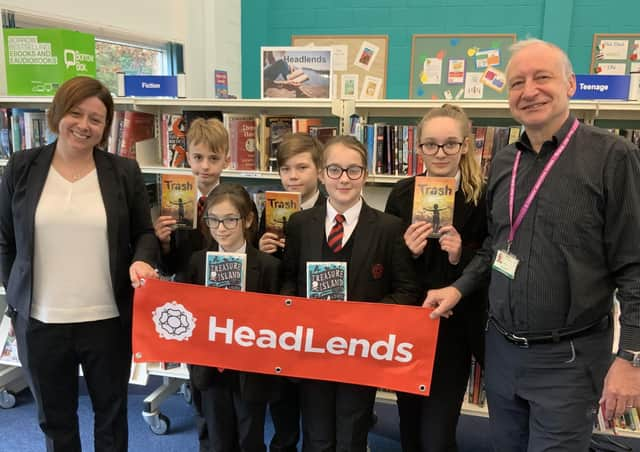 Year 7 Headlands School students take a first look at the new section with assistant headteacher Laura Woodward and library supervisor Paul Hughes.
A new section, cleverly called HeadLends, has been set up at the library, featuring books that students will read in class, alongside other suggested novels, DVDs and revision guides.
The plan is that Team Headlands students can give themselves a head start by loaning the books before they start working on them in English lessons – but it is also hoped that parents will borrow a copy so they can support their children's learning.
Laura Woodward, assistant headteacher at Headlands School, said: "It is a fantastic opportunity for parents and students alike to forge a shared love of reading. We are really excited to work closely with North Bridlington Library and we are so lucky to have this excellent facility on our doorstep.
"It's another way of Headlands forming a positive and valuable link in the community – and what better way to do it than through reading."
Headlands teachers gave library staff a list of set texts and the books are arranged with a shelf for each year group. They are located under an eye-catching red HeadLends banner, near to the junior library section.
Library supervisor Paul Hughes said: "It's great to be able to work in partnership with Headlands to encourage parents to take an interest in what their children are reading.
"There are a wide range of books available to support the curriculum, but also to widen their interest in reading."
Pupils in Year Six at the town's primary schools are also encouraged to go along and find out more about the books they will be reading when they move up to Headlands next year.